Evolution Equestrian Sponsored Riders
Meet the riders sponsored by Evolution Equestrian.
Hi, my name is Lily Martin and I'm 14 years old. I ride Bramley Entourage (Happy) a 15.1hh riding pony X thoroughbred. We compete in show horse and dressage at a local and state level. I have been riding for 10 years and hope to grow and broaden my knowledge by taking new opportunities and continuing to work hard! I love going out to compete with my friends, or just hanging out at the stables. I'm looking forward to this year, and can't wait to represent my wonderful sponsor!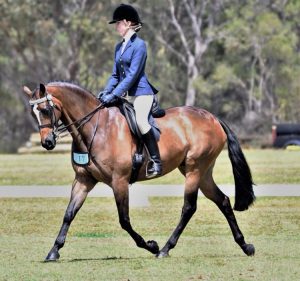 Hi my name is Katie Sheppard. This is the magnificent Bramley Mademoiselle, also known as Lola, she is a beautiful black mare out of Reprise. Located in south west of WA. Lola and I commonly compete in official show horse events along with EA and PCAWA dressage. Lola and I had an amazing 2017 season that was full of new experiences and endeavours that made us grow in our relationship and also gain enough strength to pursue our dreams of attending Nationals in the near future. We were also lucky enough to be chosen as an Evolution Equestrian sponsored rider. In 2018, we wish to successfully compete in show hunter, and of course grow as a relationship.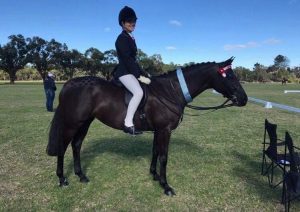 Hi my name is Lauryn Hall I am 17 years old and am in year 12 at Margaret River Senior High School, riding is a big part of my life and has been since I was just a little 6 year old starting out on school horses. I own two horses Tom and Fleur but I also have the most amazing opportunity's riding other horses that have also thought me a lot. My main focus is dressage and I am lucky enough to own Flowervale Freedom who has taken me from novice to competing successfully in elementary, I have many goals for 2018 including nationals and the royal show. I am super excited to be apart of the Evolution  Equestrian team this year and honoured to be apart of such an amazing team! I am looking forward to 2018!
Hi, my name is Emilia Forrest, I am currently in year 12 at school and I am 16 years old- so this year is going to be pretty hectic, but I'm so excited to see what the future holds. At the end of march, I will be competing at the SHC Grand Nationals in 5 classes. I am very passionate about my horse riding and I have been doing it since I was 3 and still haven't lost interest (I don't think I ever will). I competed at my first royal show when I was 4- and have competed at every one since then. I have had 4 horses that I have been lucky enough to call my own but I have also been given marvellous opportunities to ride some truly outstanding horses that have helped me improve my riding abilities immeasurably over the past few years. I would like to move up a grade in dressage to medium this year and be able to jump a 70cm coarse Thanks Emilia
Hi, My name is Silke Linton and i'm 13 years old, which makes me the youngest Evolution Equestrian sponsor. I am very passionate about horses and love everything that come with them. I have been rising for 6 years and still have a lot to learn. I ride at state level and hope to compete at a national level this year. I cant wait for what this year holds!!!
Comments are closed