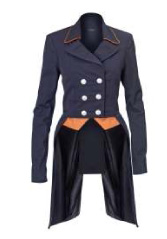 $

699.00
ANKY LADIES TAILCOAT
– The fabric stretches in 4- ways and is made of a fine wool/poyester/elastane mix.
– The fabric is finished with Nanospere which makes it dirt and water repellent.
– Incomparable cut and tailored style for a professional look.
– The tailcoat has a flat collar and weighted tails for maximum riding comfort
– The sleeve inserts are stitched in riding position for optimal fit.
– The jacket can also be customized for perfect fit.
– Sizes: 32,34,36,38,40,42 & 44
– Colour: Black or Navy
– Buttons: Gold or Silver
Choice of collar and point trims available.…
Select options