Showing the single result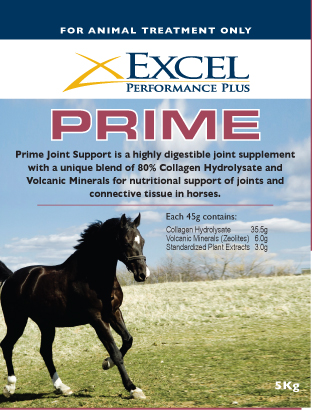 $

204.00 –

$

429.00
PRIME
100% Natural :: 100% Organic
Prime Joint Support is a highly digestible joint supplement with a unique blend of 80% Collagen Hydrolysate and Volcanic Minerals for nutritional support of joints and connective tissue in horses.
Collagen is the primary structural protein found in cartilage, tendons, ligaments and bone. Added to feed, collagen hydrolysate has been found to accumulate at connective tissue and assist synovial fluids repair damaged tissue. It may assist in recovery from exercise and exercise related injuries and rheumatoid arthritis.
Zeolite is a natural mineral useful in improving appetite, removing unwanted gases and as an aid in removing heavy metals from the body.
Prime Joint Support is the ideal daily supplement for any horse to maintain supple joints and strong bones.
Each 45g Contains:
Collagen Hydrolysate: 35.5g
Volcanic Minerals (Zeolites): 6.0g
Standardized Plant Extracts: 3.0g
Dosage rates:
Prime Joint Support can be added to the daily feed. Horses 45g daily. Ponies 30g daily. Never apply dry to the horse's mouth. Prime contains restricted animal material and may not be fed to ruminants.
 …
Select options